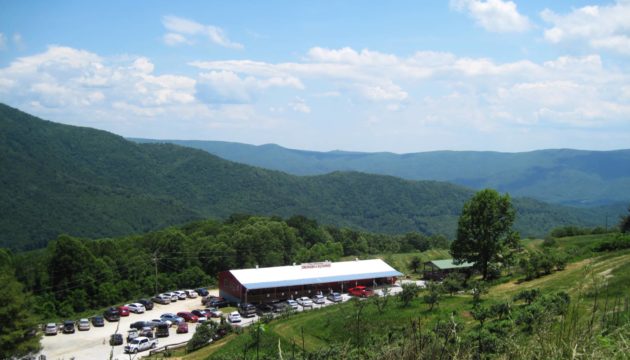 The Orchard at Altapass will open its doors on Saturday, May 13, at 10 am. Last year was good; we hope this year will be better. The Peoples Pollinator Garden is blooming, apple buds starting to appear, peach buds peeking out, barn swallows swooping, bees buzzing, and grasses getting ready to meet the mower. And although it's not quite time yet, the Apple Shed is preparing for another great crop of heirloom apples. Inside, the staff is busy "setting" the store with more delicious apple treats (including our hot apple pie), hard and not so hard cider, brined vegetables and sweet jams, salty treats, local honey, and not to forget the many varieties of homemade fudge. The shelves are filled with works from local craftspeople and signature Orchard and Altapass clothing.
As has been during the last two decades, winter months were spent revisiting the Orchard mission—to preserve, protect and educate about the region, its land, and its people. This year, the Orchard at Altapass continues its mission-driven programs by expanding on those concepts. Thanks to a grant from the Community Foundation of Western North Caroline–Fund for Mitchell County, and in partnership with the Mitchell County Historical Society, the Orchard will feature a new exhibit that speaks to the Scots-Irish heritage of our region and their Great Migration across the Atlantic. The display will offer visitors a look into Appalachian culture and a remembrance for those who still call this region home after many generations past. "We are happy to be able to recognize the thousands of people who made their way to our region of Appalachia to settle and lay down roots that have become our legacy," said Beth Hilton, executive director. "With Pipes on the Parkway, each first Sunday in June, we'll celebrate with traditional music and fun." Also, Neighbors Feeding Neighbors Food Ministry will be on the premises to accept non-perishable food goods for their Spruce Pine pantry.
Music begins on June 4 that will complement the region's heritage. And then, the sound of a sole bagpiper opens a day—an entire season of live free music, all on the pavilion now totally enclosed against the vagaries of the Orchard's weather.
.The Train Project continues to grow and expand thanks to the Toe River Model Railroaders. And although much of the tiny orchard has been "planted", adoptions will continue in limited form for families each Saturday at 2 pm. Please check the website for details.
Hours are 10 am to 5 pm, Saturday and Sunday, May 13th-28th; Wednesday-Sunday, June through October 29. Three years ago, we passed our second quarter-century mark at the red barn. And today, we have as much dedication and determination to "Save the Good Stuff" as during that first year. Spend an hour or a day. Come prepared to enjoy the people, music, art, and natural beauty of the North Carolina Blue Ridge Mountains. People friendly. Pet friendly. Easy to get to, hard to leave. For more information about the Orchard at Altapass, please visit altapassorchard.org; for updates, check our Facebook page. And to stay in the loop, email marketing@altapassorchard.org and write, "I want to sign up for the monthly e-newsletter."