Careers
Supporting women's careers in science – CIMMYT
Happy Makuru Daudi, head of the groundnut research program at the Tanzania Agricultural Research Institute (TARI) at the Naliendele Research Center in Mtwara, is a plant breeder specializing in groundnut. On the occasion of the United Nations International Day of Women and Girls in Science, she shares her passion for what she does and why more women should be involved in plant breeding.
What inspired you to enter your career?
I was in love with science and my intention was to become a doctor but then I changed my mind. I really loved biology and that focused me on an academic path. I had good mentors in college who also influenced my career direction.
When I got my first degree, the Tanzanian government hired me as an agricultural officer. Then my boss, Omar Mponda, encouraged me to become a plant breeder. He encouraged me and I went ahead to study plant breeding for both my master's and my doctorate. My first degree was in Agronomy, then I did a Masters in Crop Science, specializing in Plant Breeding, and eventually a PhD in Plant Breeding.
What did you like about growing plants?
I realized that breeders are very active people. Always trying to improve and change things. Always looking for ways to make a difference. This desire to change makes us active learners.
Another thing I learned from growers is that they can change the lives of farmers. Most of the small farmers are women. I love my crop (peanuts) because it is a "women's crop". If the breeder develops a product like the high-impact peanut, it means that they have changed women's lives. I realized that I work a lot with women in my field and even if I change the smallest thing, it means that I change their lives and push them from one step to another.
Please explain why you refer to peanut as a woman's crop.
Peanut is a nutritious crop and is widely used for processing and preparing baby food, which is why most women value it and cultivate it, even if in small plots, to have nutritious food for the health of their families.
Most Tanzanian women in particular see groundnuts as cash registers, because when they need money to use at home, they have to sell part of the harvested groundnuts and get money to meet household needs, such as buying school books for their children.
Women are involved in the entire groundnut value chain, from cultivating the crop in the field to the processing stages, unlike men who mostly enter the market only to sell the produce. Therefore, groundnut is a source of income for many women in Tanzania.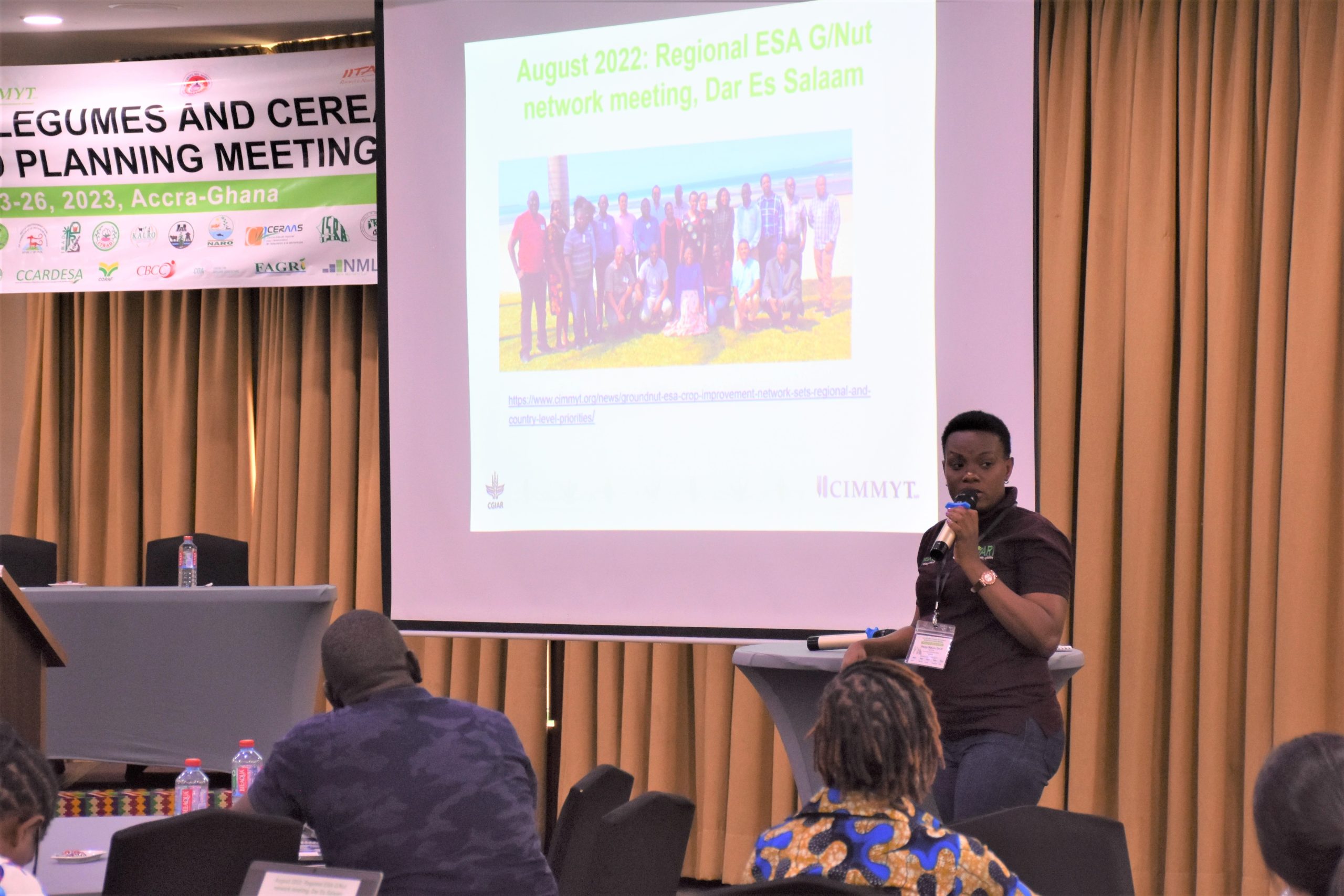 Has the International Maize and Wheat Center (CIMMYT) and CGIAR in general contributed to your career growth in any way?
Yes! They have helped a lot. First, in building my own skills and working with them on the Accelerated Breeding and Seed Systems in Africa (AVISA) project. My PhD was sponsored by the institution Tropical Pod Project III. I remember interacting with scientists at these institutions and seeing how they did it with confidence, both women and men; it motivated me and built my confidence.
What was the focus of your PhD?
My PhD was on breeding groundnuts for rust resistance and high yield in Tanzania.
What is your message to young women and girls interested in entering science, technology, engineering and mathematics (STEM) careers?
First of all, they must have confidence in themselves. They can do anything in this world. They need not be afraid. For example, those interested in breeding may observe that most breeders are men, tell themselves that the career is difficult and run away. But I would like to say that they can be and do even better than men. They just need to believe in themselves and build confidence.
Tell me about your team composition: are you intentional about working with women on your team?
Yes, I'm usually intentional about this. I always give equal opportunities to both genders, but when I have the opportunity to hire for my team, I am happier if a woman gets the job. I realized that women are good workers and willing to learn. Most of the employees in my group are women. They work hard. The main work of breeders involves cross-breeding. The best people to cross are women! I have found that the success rate of crosses is higher with women! The crossing is intensive work, physically as well, and requires maximum concentration. So I trust that.
Anything else you'd like to add?
I want to encourage women not to run away from the sciences, and especially the agricultural sciences, like breeding. We want more female breeders. They can change this world and help put food on the table for more people. In the agricultural sector, especially in the farms, women dominate, and it is easier when they are in contact with other women. When we go to meet the countryside, it is easier for us to understand their needs and change their lives. So I call on girls and women to enter this sector and change the lives of many.
Cover photo: Happy Makuru Daudi (centre) with TARI and CIMMYT colleagues discussing groundnut varieties in Mtwara, Tanzania in 2022. (Photo: Susan Otieno/CIMMYT)